An overview of the role
The role of a dental nurse is to assist a dentist in caring for the dental and oral hygiene of their patients in order to alleviate pain or make aesthetic improvements. Dental nurses may also undertake organisation and administration tasks as well as reception work.
A dental nurse will have good working knowledge of some or all of the following:
How to assess oral health

Infection control and decontamination

Radiography

Prosthesis

Endodontic nursing

Orthodontic nursing

Hygienist nursing

First aid

Health and safety regulations that apply to dentistry and general healthcare
What are the responsibilities of a dental nurse?
The responsibilities of a dental nurse include:
Setting up the surgery ready for every patient, which involves collecting and sterilising all equipment to industry standards, replacing necessary items such as mouthwash and paper towels and generally keeping the room in an orderly and professional state

Assisting the dentist as they work, passing instruments, removing saliva from the patient's mouth during treatment, taking photographs etc

Preparing materials needed by the dentist, such as filling

Reassuring anxious or distressed patients

Recording all necessary information about a patient

Checking stock and placing orders if necessary

Working in reception, greeting and booking in patients
Experienced dental nurses will have a broader range of responsibilities, depending on the training and skill sets they have acquired.
Some nurses may provide specialised assistance to hygienists, oral surgeons or orthodontists; others will become dental practice managers and assist with the accounting. Still others might branch out into an educational role and become responsible for training new dental nurses, all of which afford higher pay than the basic dental nurse salary.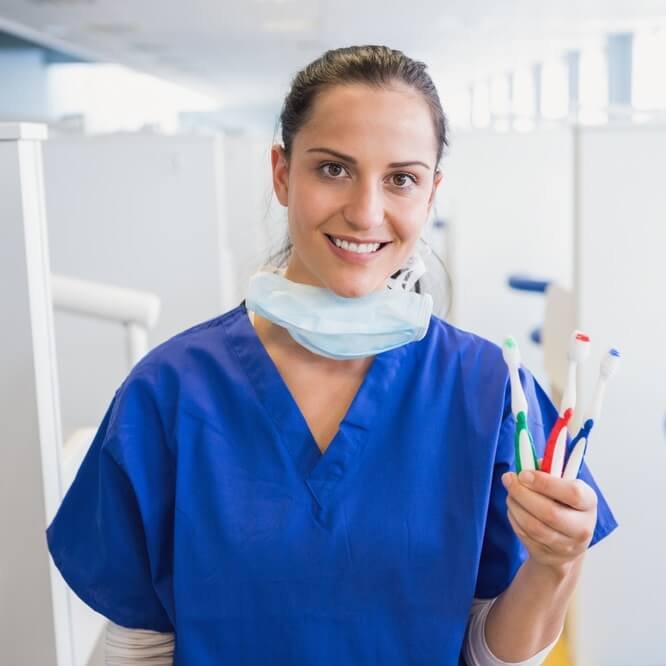 The main reason I have to smile is knowing that I'm helping other people to maintain their smile. Every single day is different from the last, but every day ends with a sense of fulfilment that I've done a good job.

Natalie, Dental Nurse 1
What qualifications does a dental nurse require?
In order to become a dental nurse you must possess a qualification in dental nursing. There are two ways to achieve this. One is through academic study, which can take the form of an undergraduate degree or a diploma.
A BSc (Hons)in Dental Nursing requires A-level grades of DEE and four GCSEs including grade C in English, mathematics and science.

A Level 3 Diploma in Dental Nursing requires four GCSEs including grade C in English, mathematics and science.
Candidates who wish to learn on the job can apply for a trainee dental nurse position, for which no academic study is necessary.
Once fully trained, candidates will then need to undergo the following tests to ensure the safety of their patients:
Disclosure and Barring Service (DBS) checks and clearance in case of previous criminal activity

Occupational Health checks and clearance to prove that candidates are not infected with Hepatitis B, Hepatitis C or HIV
Do I need relevant work experience to become a dental nurse?
No experience is necessary in order to become a dental nurse and candidates can apply with no formal knowledge at all.
Nevertheless, as in any industry, gaining work experience is a valuable way of gaining an insight into the world of dental work. As a demonstration of your interest in and commitment to dental nursing, experience will stand you in good stead when applying for your first job.
What are the prospects and salary of a dental nurse?
Entry-level Dental Nurse: £17,000
Dental Nurse: £22,000
Specialist Dental Nurse: £28,000
In order to earn more than average dental nurse salary, candidates must acquire more skills, such as dental therapy, radiography, orthodontistry or hygienist qualifications.  
As a trained dental nurse your career prospects are varied and interesting. You could work for the NHS in a dental clinic or for a private practice. You may also choose to practice in a hospital – either a specialist dental or as part of the dental department of a general hospital. There are even roles for dental nurses within the armed forces, so you can work within the sector that suits you best whatever that may be.
Whatever sector you choose, you will usually work a 9-5 week unless you decide on part-time dental nursing. Self-employment as a dental nurse is comparatively rare.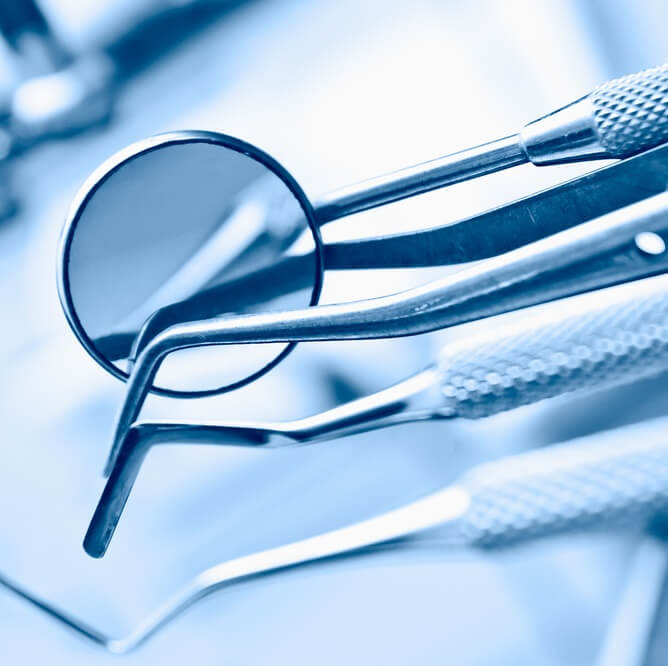 It's great when I can really change things for someone and make them more confident. It's nice to do work I'm pleased with and the scope for aiming high is vast.

Jess, Dental Nurse 2
Is the role of a dental nurse right for me?
There are both pros and cons involved in the role of a dental nurse.
Pros of being a dental nurse include:
Plenty of career opportunities – your skills will always be in demand

You can work in a truly diverse range of environments and sectors – from the NHS to the RAF

You have the opportunity to learn on the job while earning a salary, so no lengthy period of academic study is necessary

The role offers great potential for professional development and courses are usually funded by employers

You will constantly be active, not only physically but also mentally due to the variety the role offers

A social job with plenty of interaction with patients and the chance to build up relationships with returning patients

The job requires very few academic qualifications
Cons of being a dental nurse include:
The job does not offer much opportunity for progression without considerable training, which will take years

Pay is relatively low – although dental nurses with additional responsibilities can earn more, it is hard to increase your salary to above £22,000 without specialising

You will have to deal with stressed, anxious and uncooperative patients regularly, especially if your job involves regular work with children

The job requires standing and bending over patients all day, which can lead to postural problems and RSI

If you are based at a hospital expect to work at unsociable hours – evening and night shifts are common

This is not a job for the squeamish –  you will see patients in surgery and bad dental hygiene on a regular basis
References:
1. https://rebaterabbit.co.uk/2013/06/19/a-career-in-dental-nursing/
2. https://www.momentumcareersadvice.com/the-monday-interview-so-whats-it-really-like-working-as-a-dentist/