An overview of the role
Dog walkers collect dogs from their owners' houses, exercise them for a pre-arranged length of time and then return them, washing them to remove any dirt picked up during the walk if necessary.
A dog walker often offers a variety of different services, such as:
Private – this involves an on or off-lead walk for a single dog, who cannot be walked as part of a pack

Group – this involves a walk for a group of dogs, usually on the lead

Outing – this involves an off-lead run and play, usually in a more rural setting with a group of dogs
What are the responsibilities of a dog walker?
Responsibilities of a dog walker include:
Walking dogs on and/or off the lead and supervising them while they exercise

Playing with dogs for exercise purposes (throwing balls/sticks and so on)

Collecting dogs from their owners' houses

Washing and drying muddy pets at the end of a walk if necessary

Doing other tasks that your customers may have requested, such as feeding dogs or brushing them

Completing paperwork, such as daily report cards for your customers

Advertising your services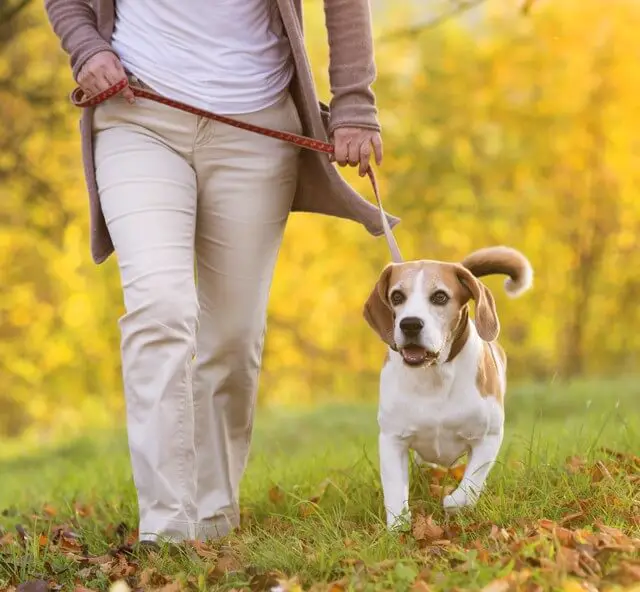 I love it. I like dogs and I love walking, because I find it therapeutic. There's a rhythm to walking, you can lose yourself in it and as I walk I daydream and work things through in my head.

Mark Forsythe, Professional Dog Walker 1
What are the key skills required by a dog walker?
Key skills for a dog walker include:
An excellent knowledge of animal behaviour and sensitivity to the requirements of dogs

An outgoing, active personality

Excellent interpersonal and communication skills

Good timekeeping skills

Business acumen

Flexibility – customers might need you to undertake last-minute work occasionally
What qualifications does a dog walker require?
No formal qualifications are needed in order to become a dog walker. However, any training in animal care will stand you in good stead both in practical terms and when you are advertising your services.
If you have access to your customers' keys and are going into their house to pick up and drop off their dog for walks, a Criminal Record Check is mandatory. This is a small expense but will make your job as a dog walker much easier and more profitable.
It is also worth being trained in dog first aid in case of emergencies while walking. This is something that your customers will really appreciate – every dog owner wants to know their pet is in safe hands. Basic first aid kits for dogs are easy to come by and you can take them with you on your walk.
You may wish to expand your repertoire and make more money by completing additional qualifications, such as grooming/trimming and dog training courses.
What are the prospects and salary of a dog walker?
The pay of a professional dog walker depends largely on the area in which they are working, but it can be anywhere between £5 and £15 per hour. Dog walkers in affluent urban or exurban (commuter-belt) areas will be working for professionals and have the chance to earn more.
How much a dog walker earns is also dependent on factors such as their working hours and how many dogs they walk and as such it is highly variable. Their salary could be anywhere between £9,000 and £32,000 per year.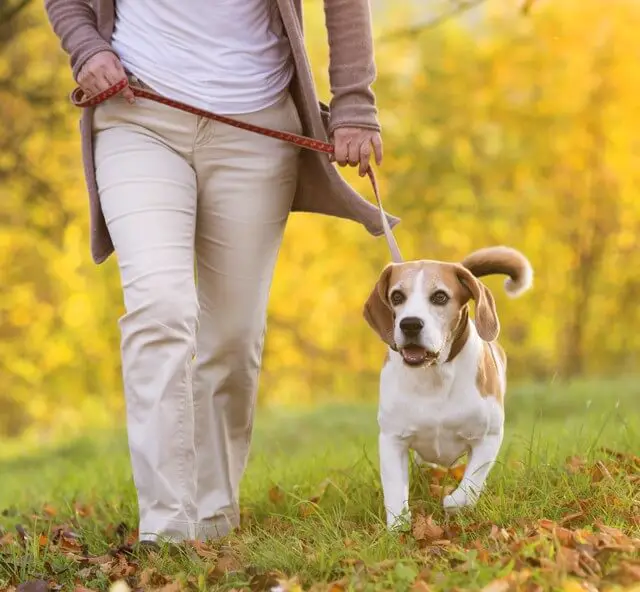 By the end of the day, I'm covered in sweat and 15 different types of fur. But the rewards of being greeted by one wagging tail after another as part of the job makes it worth every second.

Allison Gray, Professional Dog Walker 3
Is the role of a dog walker right for me?
There are both pros and cons involved in the role of a dog walker.
Pros of being a dog walker include:
If you are an animal lover this is an ideal career

You can set your own schedule and work whenever you like, although as your clients will normally work full-time (and are hiring you for this reason), your busy times will probably be weekdays

It's a job that needs no formal qualifications of any kind

The role of a dog walker gives you the opportunity to be your own boss and manage your own business, affording you considerable independence

There is a large social aspect to being a dog walker. You will build good relationships with many of your customers as well as their pets

An active job that will keep you fit and healthy – you'll have no need for a gym pass!
Cons of being a dog walker include:
It's not a very well-paid job unless you live in (or can travel to) an affluent area, especially at first while you are establishing yourself and gaining clients

Insurance of all kinds may be necessary – firstly dog-walking insurance and secondly, if you are using a vehicle to transport the dogs, insurance to cover this

Transport can become an issue if you don't own your own vehicle and/or live in an urban area where you need to travel in order to find a park

A lot of exercise is mandatory – you will need to be in good shape to keep up with the demands of the job

The role involves working outdoors in all weathers, all year round – prepare to invest in some waterproofs and a warm jacket

It can be a messy, muddy job, especially in the winter. Dog walking often involves hosing down the dogs and drying them before letting them loose in their owners' houses. And of course, poop-scooping is a must

You must be prepared for hostility – both from ill-trained dogs you encounter and from humans! This is especially true if you are walking breeds commonly thought to be dangerous, regardless of how sensibly you are handling them

In the event of a fight, you must be physically strong and confident enough to separate dogs and risk getting bitten

Formal sick leave doesn't exist and taking time off with little to no notice can be extremely difficult. Your customers, especially the professionals, may be dependent on you and taking the day off can greatly inconvenience them.
Related Occupations
References:
1. https://www.independent.co.uk/student/career-planning/getting-job/i-want-your-job-dog-walker-1971690.html
2. A Day in the life of a Dog Walker, Petaholics NYC, https://www.youtube.com/watch?v=VyykKYDZFpQ
3. https://www.petful.com/behaviors/a-day-in-the-life-of-a-dog-walker/