An overview of the role
The role of a makeup artist is to design and apply cosmetics to actors, models and TV personalities in order to convey the aesthetic impression that their employer has specified.
This can be anything from the mature makeup constructed by Elaine Offers to the full-face gore effects created by Greg Nicotera for horror films.
A makeup artist is also responsible for applying:
Prosthetics

Contact lenses

Wigs/hairpieces

Facial hair

False teeth
Makeup artists in managerial positions are responsible for designing the overall makeup strategy for a shoot or production, and liaising with the actors, director, costume designer, chief hairdresser, costume designer and director of photography (as applicable) in order to implement it.
Makeup artists can specialise in areas such as:
Corrective (natural)

Fashion

Photographic

Bridal

Mature

Glamour

Prosthetics

Casualty/Illness

Vintage/Period

Male to female
What are the responsibilities of a makeup artist?
The responsibilities of a makeup artist include:
Designing and executing makeup looks

Liaising with clients in order to ensure that their requirements are met

Ensuring that the actor or model they are working with is physically and emotionally comfortable

Maintaining knowledge of makeup brands, styles and other industry-relevant information such as health and safety

Self-promotion, including maintaining an online presence, curating a professional portfolio, networking and outreach in order to secure further work.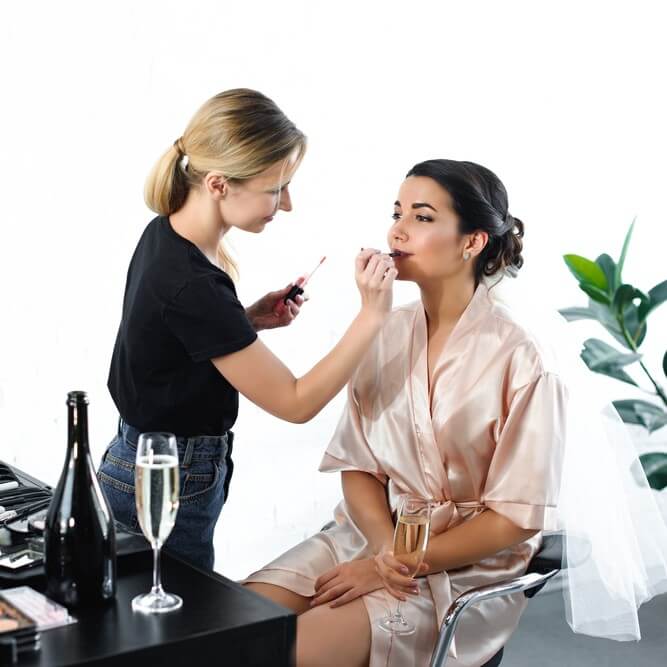 The work is thrilling, exhilarating, creative and never the same twice. No two faces are alike and even the same face is different every time.

Anna Nenoiu, Makeup artist 1
What are the key skills required by a makeup artist?
Key skills for a makeup artist include:
Creativity

An in-depth, comprehensive knowledge of makeup brands and styles to enhance features such as:

Face shape

Eye shape

Skin tone

Skin type

An excellent eye for detail, colour and structure

The ability to concentrate for long periods of time

A steady hand

Excellent organisational skills

Excellent teamwork and communication skills

Self-motivation and persistence
Other skills are dependant on the type of makeup in which the artist specialises. For instance, transgender makeup artists must have good knowledge of the differences between male and female facial structure, whereas casualty special effects artists must be familiar with anatomy and pathology.
It is also vital for contemporary makeup artists to be computer-literate. A strong online presence is virtually the only way to be successful and makeup artists should cultivate their social media knowledge as a means of advertising their services.
A degree of physical fitness and stamina is also a must. Makeup artists will be on their feet or bending over to apply makeup all day when on a job, often for more than 12 hrs at a stretch. They must also be prepared to carry all their own equipment to the location, which may be outside.
What qualifications does a makeup artist require?
Academic qualifications are less important in this industry than creativity and demonstrable ability. There are several routes to learning the necessary skills. Aspiring makeup artists can:
Study for an undergraduate degree in makeup artistry, such as:
Study for a diploma in makeup artistry, such as:
Once you are qualified you can pursue an apprenticeship with an established makeup artist in order to build skills and contacts within the industry, although securing one is easier said than done. Speculative applications are the norm for securing work.
Although it is still technically possible to become a makeup artist without any qualifications, the industry is slowly becoming more formalised. Jobs are competitive enough for the fully qualified; candidates without formal training are at a disadvantage.
Do I need relevant work experience to become a makeup artist?
Work experience as a makeup artist is as important for networking purposes and industry knowledge as it is to boost skills.
If you would prefer to work in-house – in a theatre, for example – there are a very limited range of such roles available so networking is essential. Try to secure a work experience placement at the company you'd like to work for.
Demonstrating the experience you have is also important. It is vital to have a professional portfolio of all your work to show potential employers. This can consist of projects completed during your time of study, photographs of friends you've practised on and everything in between. Ensure that the portfolio is well shot and well composed.
What are the prospects and salary of a makeup artist?
Due to the freelance nature of most makeup artists' careers, the following salaries are estimates. Trainee makeup assistants tend to earn the national minimum wage unless they are apprenticed.
Makeup artist: £180-300 a day
Chief makeup artist: £450 a day
Makeup artists can secure more clients (and therefore higher salaries) by adding new skills to their portfolio or by diversifying their areas of expertise and learning related hairstyling or barbering techniques. There are many courses available.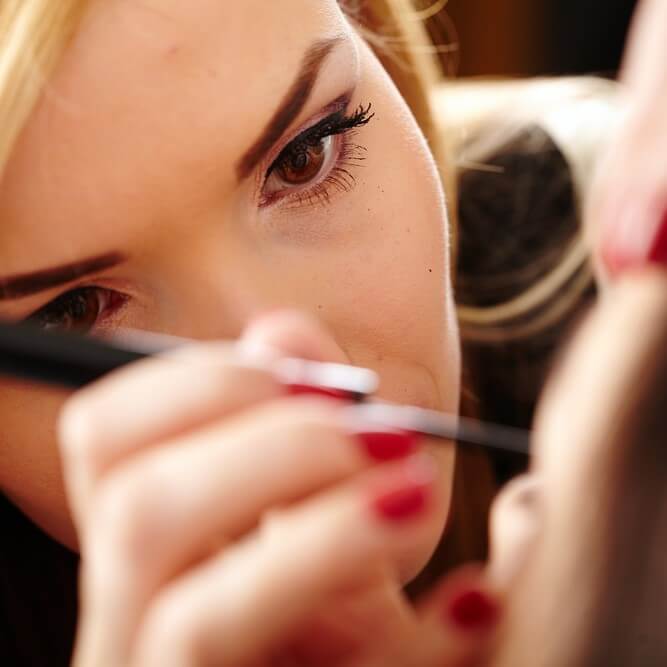 I love the power makeup has to change a person's personal outlook. Everyone has beauty, but people often forget that.

Nathan Johnson, Makeup Artist 2
Is the role of a makeup artist right for me?
There are both pros and cons involved in the role of a makeup artist.
Pros of being a makeup artist include:
A highly creative and rewarding role

Great flexibility – you can work freelance and set your own schedule

You can work in a very wide range of environments and industries

You have the option to specialise in the field that you want and constantly broaden your technical knowledge and repertoire, or change fields if you choose
Cons of being a makeup artist include:
Low job security – as the role is almost entirely freelance, you will be forced to constantly source and secure new jobs

You may have to work for free in the beginning to gain sufficient experience for paid work

Long and irregular hours on set, backstage in dressing rooms and so on

The need to keep pace both with fashion and with digital technology in order to maintain your portfolio

Requires an upfront investment in all the necessary products, which may prove very expensive

Most work is based in urban areas, meaning that you may be forced to relocate to London or another large city
References:
1. lhttps://careers.workopolis.com/advice/inside-scoop-whats-its-like-to-be-a-makeup-artist/
2. https://www.qcmakeupacademy.com/2014/08/why-i-love-my-job-as-a-makeup-artist/