An overview of the role
The role of a nail technician involves finger and toenail shaping and decoration as well as providing customers with information about proper nail, cuticle and skincare.
The day to day role involves:
Applying polish

Applying nail tips

Applying acrylic overlays

Applying and heat treating gels

Creating nail art, including appliques

Hand soaks

Hand massages with lotion

Cuticle treatments
The role is a creative one, which requires considerable artistic flair as well as solid practical skills.
A successful nail technician will be knowledgeable about contemporary fashion trends that relate to their work. They will also have a good understanding the way in which various nail colours, patterns and forms flatter different clients and will be familiar with a myriad of different styles, including:
Square

Squoval

Round

Oval

Almond

Coffin/Ballerina

Stiletto

Lipstick

Flare

Mountain peak

Edge
What are the responsibilities of a nail technician?
Day-to-day responsibilities of a nail technician typically include:
Preparing, shaping, painting and decorating nails

Meeting and greeting customers

Answering the phone and making bookings

Cleaning and tidying equipment and the salon

Planning and implementing promotional activities, either for your own services or on behalf of the salon employing you
Nail technicians may also be responsible for a wide range of business-related duties, from managerial and financial tasks to paperwork if they are self-employed or have decided to run their own salon.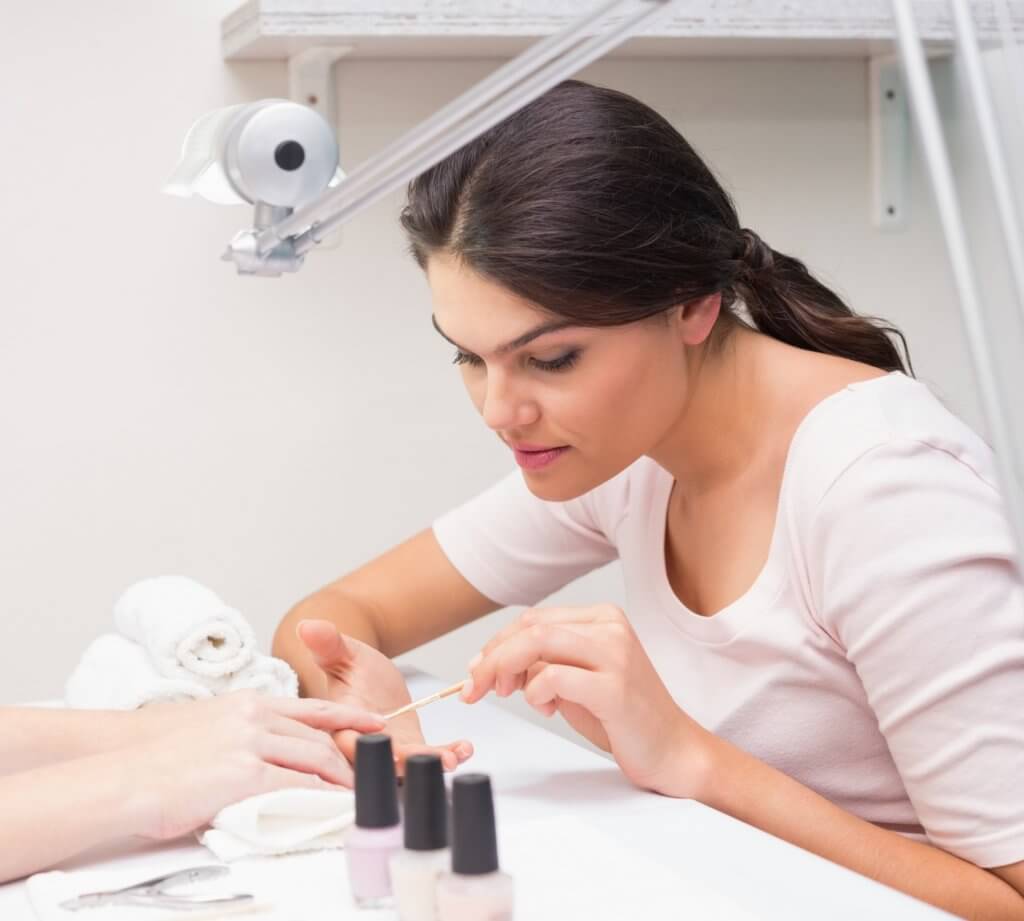 One great thing about becoming a nail technician is that there are no fixed requirements or qualifications needed to start.

The Beauty Island 1
What are the key skills required by a nail technician?
Key skills for a nail technician:
Excellent interpersonal skills

A friendly, outgoing personality

Good attention to detail

Excellent hand-eye coordination

Knowledge of current fashion trends related to nail art

Creativity

Patience
A nail technician will also need to understand the basic science behind nail procedures. Incorrectly applied acrylic nails, for example, can cause fungal infection due to the accumulation of moisture in the gap between the real nail and the acrylic. Improperly filed nails can weaken and split. In order to prevent damage to their client's nails, the technician must be aware of such risks and why they occur in order to mitigate them.
Nail technicians that choose to work freelance or run their own salons will also need business management skills. For this reason nail technician courses often incorporate business management into their training, giving their trainees greater flexibility in terms of their future work prospects.
What qualifications does a nail technician require?
In order to become a nail technician, you will need to have completed an advanced course in Beauty Therapy, such as:
NVQ/SVQ Level 3

BTEC National Diploma
These courses typically require a NVQ/SVQ Level 2 in Beauty Therapy, or at least four GCSEs. Ideally you will have pass grades in English, maths and science.
You may also become a nail technician after completing an apprenticeship. The qualifications necessary are highly varied – though nail salons generally take apprentices with pass grades in English, maths and science, some stipulate as many as 10 GCSE pass grades.
Nail technician apprenticeships generally last for one year working 30 hours per week, after which you will have earned the equivalent of a Level 3 qualification. Many apprenticeships demand 100% attendance – if you are not a scrupulously punctual person, perhaps reconsider the role!
Do I need relevant work experience to become a nail technician?
No work experience is generally required for an entry level nail technician job, but employers value any related work experience that demonstrates transferable skills such as:
Good customer service

Attention to detail

A good work ethic

Punctuality

Trustworthiness

Willingness to learn
Once trained, a nail technician's salary is dependent on experience within the field.
What are the prospects and salary for a nail technician?
A nail technician can expect to earn:
Entry Level Nail Technician: £11,000

Nail Technician: £18,000

Senior Nail Technician: £25,000

Senior Beauty Therapist: £31,000
Apprentice nail technicians can be paid as little as £3.70 an hour and generally earn around £95 per week.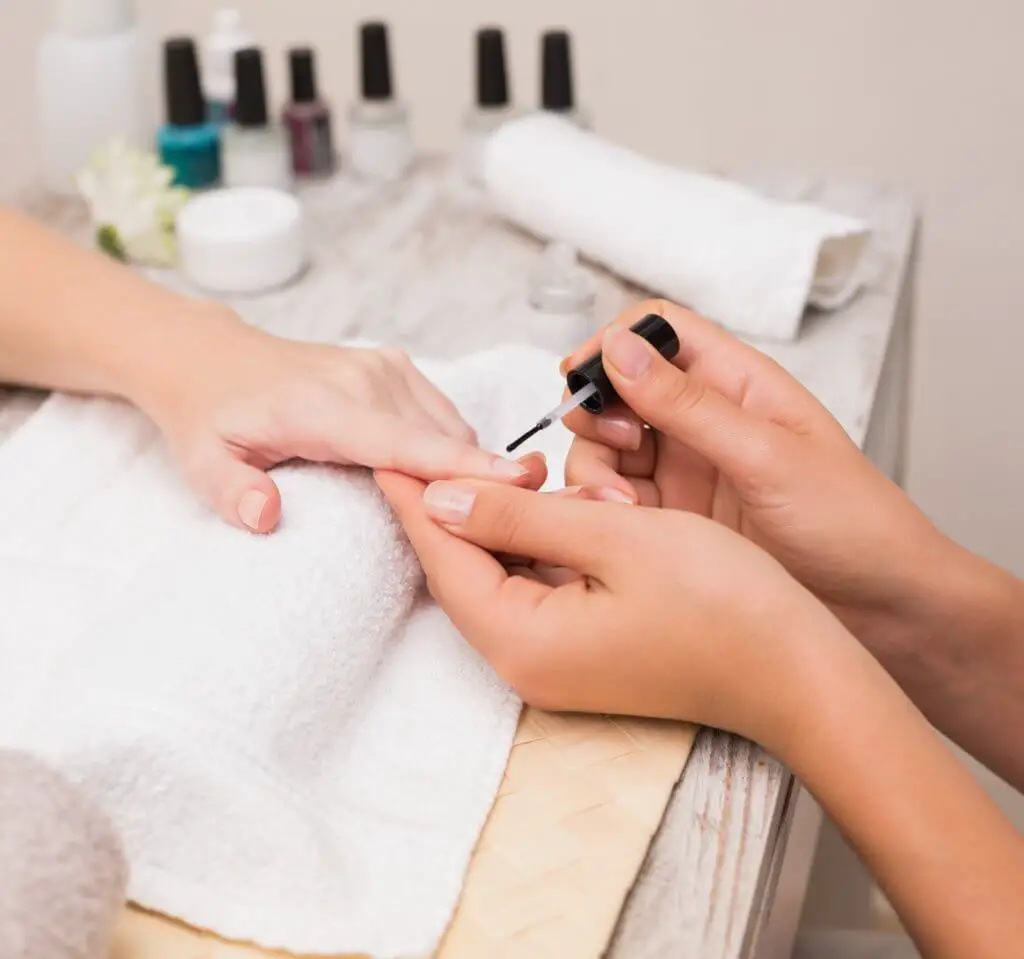 Everyone always leaves me with a smile – it's the best feeling.

Nicole Corbett, Nail Technician 3
Is the role of a nail technician right for me?
As with any role, there are both pros and cons of being a nail technician:
Good job prospects

The creative and social aspects of the role are enjoyable

The role of nail technician is in many ways a nurturing one, and this is emotionally satisfying

The option to be self-employed or run your own business should you choose to

Very flexible schedule – you can work weekdays, weekends and holidays, whatever suits you

You can earn money while training instead of accumulating university debt
A qualified nail technician also has ample opportunity to travel. Cruise ships are always in need of beauty therapists of all varieties, and as such are perpetually on the lookout for professionals capable of providing luxury manicure and pedicure services. This is an experience that will be envied by many.
The myriad of transferable skills a nail technician needs will give you the opportunity to work in two different, related beauty roles, or to change careers completely later in life should you desire to do so. For example, a nail technician inspired by the massage aspect of a manicure or pedicure might then train in reflexology for a more diverse working experience.
Due to the rapid changes in fashion trends regarding nail styles and nail art, there is plenty of opportunity for learning and professional development. If you enjoy keeping up with fashion and constantly developing new skills, the role of a nail technician may be for you.
Cons of being a nail technician include:
Limited room for career progression without learning other beauty therapy skills

High salary roles are dependent on the company you work for

Low starting salary, especially if training as an apprentice

Most nail technicians buy all their supplies, which is costly

Working in a customer-facing role can be stressful and demanding

If you are working for yourself, willingness to maintain high levels of organisation is a must

Freelancers must often travel to their clients and pay the costs associated with that
References:
1. https://thebeautyisland.co.uk/career-nail-technician-best-career-path-new-year/
2. https://www.stonebridge.uk.com/blog/beauty-hair-and-nails/turn-your-hobby-into-a-job-in-the-beauty-industry