An overview of the role
The role of a driving instructor is to teach students how to operate a car correctly and safely. This involves coaching students on how to pass their driving tests – what the examiner will expect of them and the mistakes for which they will be penalised.
Driving instructors may also teach pupils who have passed their tests more complex aspects of road safety, for example driving at night, during adverse weather conditions or on the motorway.
A qualified driving instructor can also move into highly specialised fields, such as:
Passenger-carrying vehicles like buses

Heavy goods vehicles (HGVs)

Emergency services vehicles

Disabled drivers
A driving instructor's lifestyle, work schedule and income differ depending on whether they are self-employed or work as part of a company or franchise. The advantage to the latter is ease of attracting clients – it can be extremely difficult and time-consuming for self-employed driving instructors to build up a client base early on in their careers.
Franchises charge a flat fee regardless of how much work they supply you with, meaning that even if you earn nothing you will still have to pay them. This can be a serious expense – up to a third of the driver's income. Self-employed drivers, of course, can keep everything they earn.
What are the responsibilities of a driving instructor?
Responsibilities of a driving instructor include:
Teaching pupils how to operate the car, how to drive, park and reverse, using all the vehicle controls

Ensuring that pupils have a good knowledge of road safety precautions such as the ability to perform emergency stops and basic vehicle checks

Monitoring the knowledge and abilities of pupils

Planning lessons, taking into account ability and the amount of time the student has before their test

Teaching students about hazard perception, the Highway Code and other information in order to prepare them for the theoretical aspects of their test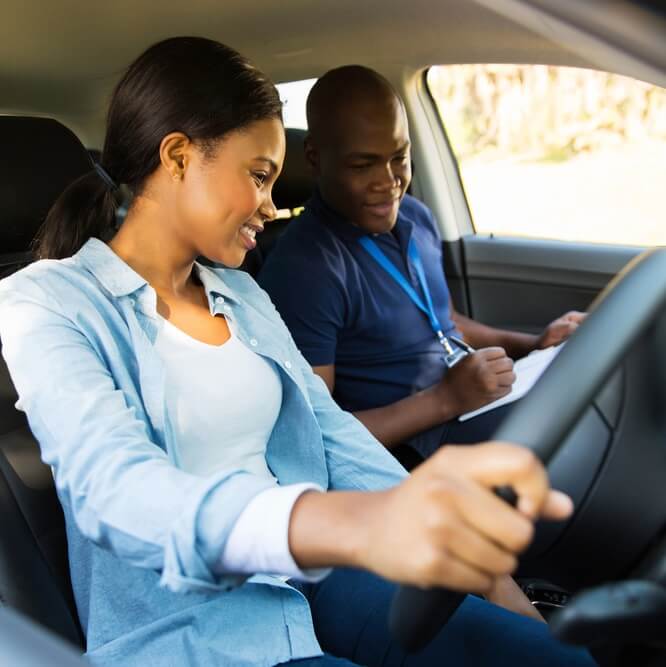 You're the boss. You can take time off whenever you want and only have to work when you choose to. Do you want to work days, evenings or weekends? Whatever you want there are pupils to fit in with those times.

Paul, Driving Instructor 1
What are the key skills required by a driving instructor?
Key skills for a driving instructor include:
Excellent driving ability

Excellent communication skills and the ability to give concise, clear instructions

Adaptability

Fast reactions and the ability to think on your feet

Excellent organisation and record-keeping skills
If the driving instructor works for themselves, undertaking all necessary business management tasks – marketing, networking and so on – will also be necessary skills.
What qualifications does a driving instructor require?
No academic qualifications are needed prior to training to become a driving instructor, other than a full, clean driving licence.
In order to train as a driving instructor you need to:
Be aged 21 or over

Have held a full driving licence for a minimum of three years

Be able to correctly read a car registration plate at a distance of 90 feet (27.5 metres) with glasses or contact lenses if necessary

Undergo and pass criminal records and motoring convictions checks
Once trained, candidates must then pass the Approved Driving Instructor (ADI) test, which is in three parts:
ADI part 1 – this is a two part theory test, involving a written multiple choice exam and a hazard perception test

ADI part 2 – this is a five part practical driving ability test, involving an eyesight check, vehicle safety questions, general driving ability tests, manoeuvres and independent driving

ADI part 3 – this is an instructional ability test that takes the form of a 30 minute client-centred driving lesson to one of your pupils. You will be marked on 3 competence categories:

Lesson planning

Risk management

Teaching and learning strategies
Together, the three tests will cost £303. If the candidate fails any of the tests and wants to retake the test, the full amount must be paid again. The fees for training as a driving instructor depend on the organisation.
Do I need relevant work experience to become a driving instructor?
The most important experience necessary is driving experience. The driving instructor must be a competent driver who is used to adhering to all road safety laws. They must also be experienced in relation to hazard perception and able to spot and quickly rectify their pupils' mistakes for safety reasons.
What are the prospects and salary of a driving instructor?
A trained, qualified driving instructor can expect to earn anywhere between £15,000 and £30,000 per year, depending on how many lessons they teach each week and who they work for.
Driving instructors who work for a franchise will need to pay franchising fees of anywhere from £600 to £1,200 per month.
I enjoy teaching people and seeing how they all learn in different ways. The smile on their face when something goes right is just fantastic.

Abbie, Driving Instructor 2
Is the role of a driving instructor right for me?
There are both pros and cons to the role of a driving instructor.
Pros of being a driving instructor include:
The role of a driving instructor is a highly sociable one – you will be meeting and teaching a great number of different people

The job offers the opportunity to work for yourself and/or set up your own business

The role allows great flexibility – you can set your own hours and schedule lessons however is convenient
Cons of being a driving instructor include:
High upfront costs such as the test and any retakes of it needed, as well as insurance fees and the initial expense of buying a dual-control car

Maintenance costs are also high, regardless of whether you are self-employed or work for a company. These include fuel, tyres and any repairs necessary, in addition to potential franchising fees

The need to travel to each pupil means that working anything more than a 25 hour week is not feasible. This means a lot of time spent driving (and using fuel) without being paid for it

It is often difficult for self-employed driving instructors to build a client base at first and it may be necessary to work part-time doing a second career until you are sufficiently established to live on the profits of driving alone

Having a clean driving licence is mandatory for the role, meaning that any mistakes on the road in your own time could cost you your job

The role is sedentary, as you will be sitting in the car for several hours each day
References:
1. https://www.1stdrive.com/good-and-bad-of-being-a-driving-instructor/ 
2. https://www.momentumcareersadvice.com/the-monday-interview-so-whats-it-really-like-working-as-a-driving-instructor/