What are the responsibilities of a train driver?
Responsibilities of a train driver include:
Checking the train before each shift to ensure that it is in good working order

Communicating with the control centre in order to stay up to date on all travel information relevant to your day's journey

Driving the train along a prearranged route

Following and interpreting signals on the journey

Making stops to pick up and drop off passengers or freight

Controlling the automatic doors of the train

Making passenger announcements to inform travellers of any relevant information
I liked the challenge. Every day was different, as the seasons changed. Winter snow, rain, fog, the autumn. And getting to a destination on time, knowing you were delivering.

Graham Wilson, Former Train Driver 1
What are the key skills required by a train driver?
Key skills for a train driver include:
Excellent vigilance and concentration over long periods of time

The ability to think on your feet and react quickly and calmly in dangerous situations

A responsible, conscientious personality and good awareness of all health and safety regulations required by the role

Strong memory skills, particularly for Tube drivers who must be able to navigate the London Underground

Customer service skills

Excellent written and verbal communication skills
There are also a number of physical standards which applicants must meet in order to qualify for the role. Train drivers need good eyesight including full colour vision and though glasses are permitted, only mild visual correction is acceptable.
Train drivers must also meet a required level of hearing, although mild natural deterioration generally does not stand against applicants.
Train companies tend to set their own limits regarding height and fitness, but usually a train driver must be between 5'2" and 6'4" in order to fit the control desk within the train cab.
For an entry level train driver, a BMI of more than 28 is inadvisable, though exceptions are made. Any history of blackouts, insulin-dependent diabetes or epilepsy will disqualify candidates immediately.
An applicant will also have to undergo a series of tests, including:
Diabetes

Electrocardiogram

Blood pressure

Reactions, such as memory, reasoning, perception and coordination

Psychometric tests

Drug tests, including cannabis

Excess alcohol consumption tests
General physical guidelines required to become a train driver are available online. For more detailed information regarding eyesight, hearing and fitness restrictions, investigate the company to which you are applying.
Train drivers also need to live within an hour of the depot from which they are working.
What qualifications does a train driver require?
As suitability for the role is determined by extensive tests conducted by the train company, formal qualifications are not essential. Most train companies require a minimum of a C grade in GCSE English and maths to become a train driver. If a trainee has knowledge of mechanics or electrics, this is advantageous but not necessary.
Because of the highly skilled nature of the role, the majority of train companies only hire trainees of 21 years or over. A few companies such as Arriva allow applicants that are 20 years and 6 months old to take into consideration the lengthy hiring process.
What are the prospects and salary of a train driver?
The role of train driver is well paid. Trainees can expect a salary of roughly £24,000 for the year of their apprenticeship and the average salary of a train driver – £44,503 – is well above the national average salary of £32,708.
Once qualified, a train driver can expect to earn:
Train driver –

£40,000

Senior train driver –

£55,000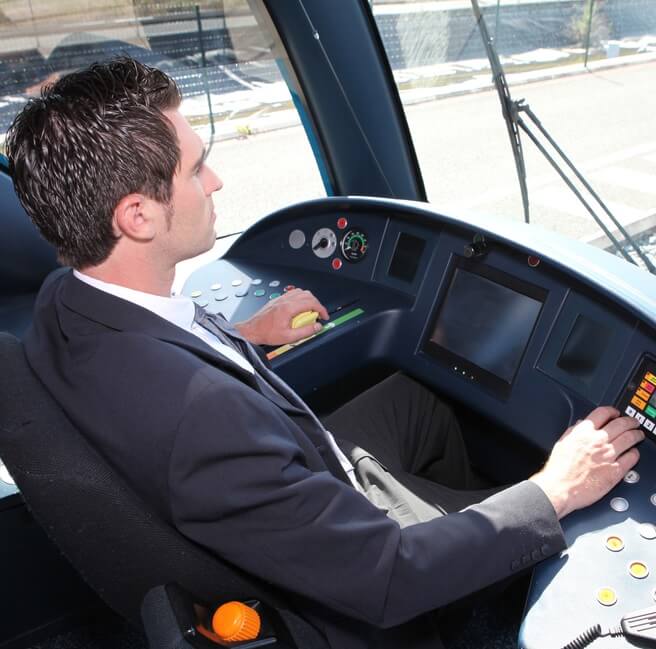 Do I need relevant work experience to become a train driver?
Due to the highly competitive nature of the role, applicants are advised to secure some work experience first in order to demonstrate their commitment to becoming a train driver. Experience in any job related to the rail industry is valued – getting a job at the ticket office or as a rail host or conductor is an ideal first step towards becoming a train driver.
Once hired, experience is vital – candidates cannot progress to the next stage of their training without accumulating enough hours. Typically a train driver must have 200 to 300 hours of experience (one third of which must be in the dark) before they are allowed to drive a train without an instructor.
The surroundings are beautiful, you do see some beautiful stuff like early morning mists and sunrises

Dominic Breese, Train Driver 2
Is the role of a train driver right for me?
There are both pros and cons involved in the role of a train driver.
Pros of being a train driver include:
A well-paid job – even trainee wages are very generous compared to most apprenticeship salaries

The demand for train drivers is high, so once you're fully trained you're likely to have a job for life

Despite the potential for accidents, the job is by and large a low stress role

Work is generally limited to 36 hours a week

You can drive locally or nationally and tailor the work to your lifestyle

Due to the nature of shift work, train drivers get plenty of free time – they typically work four weeks and get a week's holiday
Cons of being a train driver include:
Competition for the role is tough

Regular assessments are carried out in order to ensure that drivers are still fit for their job

The role requires self-sufficiency – you will be alone for most of the day

Work hours can be gruelling – shifts can start at 4am or finish at 1am

Many train drivers – especially those who work on the London Underground – are recruited internally, so candidates will need to work another role (such as station assistant) first and hope for promotion

Train drivers (and Tube drivers especially) have to be prepared for the event of suicides, to such an extent that this is now a mandatory part of Tube driver training. Although counselling, sick leave and staged returns are provided in order to facilitate employee recovery, often the PTSD ends the driver's career.
References:
1. https://www.scotsman.com/news/being-a-train-driver-is-a-dream-that-can-come-true-1-2783116
2. https://www.expressandstar.com/entertainment/weekend/2018/04/08/what-its-like-to-be-a-train-driver-i-do-see-some-beautiful-sights/